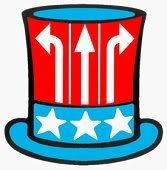 It's time for DHMT! And you just missed us...but don't worry, the show should be up for streaming and podcasting within the hour. Please be sure to check back and tune in every Wednesday at 5pm PST/8pm EST.

This Week--Hosts clammyc, thereisnospoon and theKK take calls from Jeff Huber and Greyhawk of ePluribusMedia and discuss the hot topics of the day:

FISA bill - how can we give MORE power to Alberto Gonzales?
"Kneel before....Dodd". Why Chris Dodd should be taken more seriously
Tom Tancredo - a republican Congressman and presidential candidate calling for bombing Mecca, "just because".
Young. Republican. President. Rapes. Man. Who says republicans aren't all about "family values"?
Mitt Romney's military age family - supporting the troops by campaigning for dad
CLICK HERE TO LISTEN
Call in number is 718-508-9410.